At times I am so bored by Christmas it is ridiculous. The same tired old songs and one-liners every year. Somehow our culture finds a way to make even the incarnation trite. This is why, in my recent GKC overdose, I was glad to come across these great re-kindlers of wonder: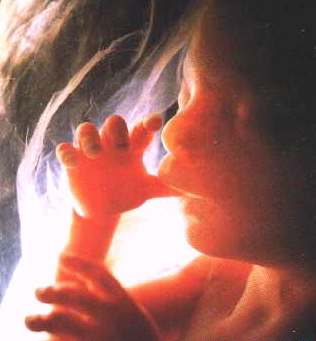 "It is no more inevitable to connect God with an infant than to connect gravitation with a kitten. It has been created in our minds by Christmas because we are Christians; because we are psychological Christians even when we are not theological ones. In other words, this combination of ideas has emphatically, in the much disputed phrase, altered human nature. There is really a difference between the man who knows it and the man who does not. . . . Omnipotence and impotence, or divinity and infancy, do definitely make a sort of epigram which a million repetitions cannot turn into a platitude. It is not unreasonable to call it unique. Bethlehem is emphatically a place where extremes meet" (
The Everlasting Man
, 171).
"In that fold or crack in the great grey hills . . . the whole universe had been turned inside out. I mean that the eyes of wonder and worship which had been turned outwards to the largest thing were now turned inward to the smallest. . . . it is true in a sense that God who had been only a circumference was seen as a centre; and a centre is infinitely small" (172). "The hands that had made the sun and stars were too small to reach the huge heads of the cattle" (169).
"In the riddle of Bethlehem it was heaven that was under the earth" (173).The cave was not just a hiding place from Herod (i.e. Moloch) but was like an "outpost . . . a piercing through the rock and an entrance into an enemy territory. There is in this buried divinity an idea of undermining the world" (181).
The story of the actual incarnation is "THE ONE GREAT STARTLING STATEMENT THAT MAN HAS MADE SINCE HE SPOKE HIS FIRST ARTICULATE WORLD, INSTEAD OF BARKING LIKE A DOG. ITS UNIQUE CHARACTER CAN BE USED AS AN ARGUMENT AGAINST IT AS WELL AS FOR IT. IT WOULD BE EASY TO CONCENTRATE ON IT AS A CASE OF ISOLATED INSANITY; BUT IT MAKES NOTHING BUT DUST AND NONSENSE OF COMPARATIVE RELIGION" (267).
"Nobody else except those messengers has any Gospel; nobody else has any good news; for the simple reason that nobody else has any news. Those runners gather impetus as they run. Ages afterwards they still speak as if something had just happened. They have not lost the speed and momentum of messengers; they have hardly lost, as it were, the wild eyes of witnesses. In the Catholic Church, which is the cohort of the message, there are still those headlong acts of holiness that speak of something rapid and recent; a self-sacrifice that startles the world like a suicide. But it is not a suicide; it is not pessimistic; it is still as optimistic as St. Francis of the flowers and birds. . . . We might sometimes fancy that the Church grows younger as the world grows old" (269).
I am pretty sure the church needs a bit of a rebirth these days, however, at least in regard to its treatment of Christmas. We need to recapture all that is meant in this moment rather than skip too quickly ahead to everything else. The incarnation is a piece of redemption already, even before the cross.