There are artists who earn your trust. You know you just
have
to buy the next thing they put out. Right off the shelves. Without hearing a single, seeing a trailer, or hearing any word of mouth. You maybe don't feel the need to line up at the doors 36 hours before the the CD/tickets/book goes on sale, but you will be there pretty quick. M. Night Shyamalan is that way for me. Maybe not anymore. We'll see.
Maybe the man who made such amazing films as
Signs
,
The Village, Sixth Sense,
and
Unbreakable
just ran out of gas. I don't know what it was, but
The Happening
did not live up to expectations. Like
Lady in the Water
before it, it was just kind of a dud. However, at least
Lady
still had some acting and storytelling and cinematography to go for it. This had none of that. It was like a TV movie, really.
The cinematography was boring. Grass and trees everywhere. And wind. That's it. There's your bad guy. Thing is, that's kind of a cool idea. An invisible and completely natural villain. Imagine you step outside after the movie and the wind blows in the trees above and you get a chill, expecting any moment to be dead---that would be something. If anyone could pull it off and make it scary it would be M. Night. But he didn't.
The music didn't help. It just wasn't the stuff of his past works. Not once do I recall being captivated. Past soundtracks held me in their icy grip from start to finish, and hours afterward.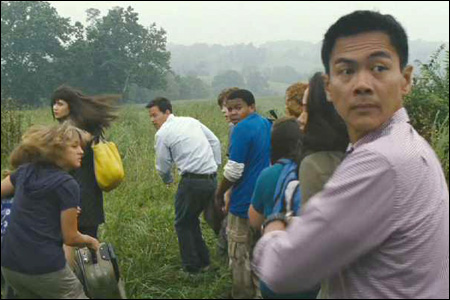 The acting was nominal at best. A film like this needs good casting, but there was really only one "extra" (the military guy) who I felt did a better job than I would have done. The supporting cast was alright. The lady who played Mrs. Jones was phenomenal, and gave the movie its only bright spot. What a great bunch of scenes at her house. Literally made the night for me. The main actors fizzled. I like Mark Wahlberg and Zooey Deschanel, but they just lacked spark. I didn't care. And usually M. Night does such a good job getting child actors to be convincing, but the kid in this one was like a next door neighbour reading a book--cute and all, but not something I care to watch for very long.
When we got home from watching this one, our sitter had
The Village
on. We sat and watched the rest of it and remembered why M. Night is so great. The color, the story, the acting, the filming, the extras---it is a stunning picture. This film is so inferior to that one it is perplexing.
Even stuff that M. Night used to do well was done poorly here. The long agonizing close up on the person before you see what is behind or above them---if done right it is gripping, if done poorly it is just frustrating. In
The Happening
's first act, when people are falling from the roof, I'm sorry but, dude, you gotta look up a lot sooner. People are falling from the sky! The realism decreases exponentially when you keep on looking around at the ground confused. We realize pretty quick that the director is toying with us, and when he sacrifices common sense to do so, we just don't like it. The story begins to feel stupid.
I realize most of my criticisms come from comparing this film to M. Night's past flicks. Maybe he set himself up for a few letdowns. It does cause one to wonder what M. Night is up to. The best theory I've heard, over at
Watch It Movies
, is that he's not concerned with a wide audience anymore and is just doing what he wants and depending on his cult fan base. I don't know, I say get a team around you that will keep you up to your standards.
Whatever happened with
The Happening,
I hope it doesn't happen again. There are glimmers of hope, though. The plot-line was a good idea (but what happened to the bees? Why didn't that play a bigger role?), and there were some good scenes (everything with Mrs. Jones). To be honest, I still look forward to his next stuff. But I must admit it is kind of sad when a favourite artist loses a bit of that favour.
Still, we'll always have
Signs
. And a night at
The Happening
is still better than 75% of the movies out there. So let's keep perspective. Don't anyone panic. I'm sure it won't happen again. One good thing about this movie is that I think it made me like
Lady in the Water
a bit more.