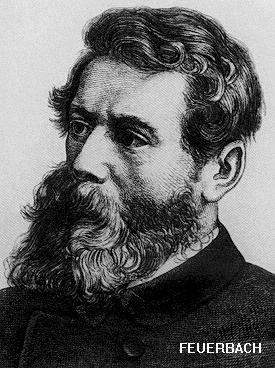 The philosopher
Ludwig

Feuerbach
knew Christianity quite intimately, and famously asked the question which sent many people reeling: If God is (so conveniently)
for us
, how do we know we haven't simply ascribed to God our greatest desires? Leaving aside the fact that

Feuerbach

overly

caricaturized

Luther's view of God's
promeity
("for-us-

ness

"), we do have a good question here -- especially if our view of God fits the caricature.
This is the sort of question which begets apologetics; which causes Christians to hit the books and airwaves to solve or satisfy. I have always had a heart for apologetics, and still do, since I believe that if there is a true good God then reason and faith will not in the end be exclusive terms. However, I was quite taken aback this past fall when I first read Karl Barth's response to

Feuerbach's

question, which was to say that to attempt to solve the question would be simply to affirm it. For what measures would we use to show God

unascribed

? If a humanly
conceived
god is not God, how is a humanly
proven
god God?
This question has bite not only for the overly-confident

apologete

, but also the overly-confident atheist. When I read this the first time, I scrawled the following in the margin of page 82 of my copy of
Church Dogmatics
IV/3.1:
To prove God is simply to disprove the thus-proved God.

To disprove God is merely to disprove one's notion of God.
In other words: If God were
provable
(empirically, emotionally, or otherwise), addressing Him as God would be utterly meaningless.
But this seems to be the only God that atheists (and agnostics) would be willing to "believe" in. Thus, the notion of God has been rejected as a result of presupposition, not proof.
Frankly, however, this also seems to be the only God that many theists want to believe in. The one who stands at the end of human progression or who is reachable through human thought or feeling or faith decision or moral action.
If the "God"of such atheists and theists existed, there would be no qualitative difference between human and divine---the usefulness of the label would be null. "God", as such, would be simply our name for the furthest reach of humanity.
If there is God, this God must be self-revealing; and this self-revelation must be able to reach into humanity without losing divinity. And, as Barth concludes, this
God would be the one asking the questions, not us. Were divine self-revelation to meet us, it would ask us in faith to know God on God's terms.
This might sound like an open door to the most ethereal of religions, but not so. It is the denial of religion in both its atheist and theist forms.
Where does this leave atheism and agnosticism? With little to say about God, and better off admitting to a constructive humanism, in my opinion. What to believe about humanity is another question (and a highly debatable one at that).
Where does this leave Christianity? Well, it
is
a
faith
. But, since we believe God true and good and loving according to Jesus Christ as God's self-revelation to (and of!) humanity, it is a call to a
certain
faith -- a faith seeking understanding, seeking the good of humanity, and seeking reconciliation in the world. The constructable gods of atheists and theists can only bow if God takes on flesh.