Two days ago I saw this book on the shelf at the library that I knew I just had to read. The biography of Chris Farley. It was almost impossible to put down. Finished it an hour ago. It made me laugh, it made me cry. Can you believe he has been dead for almost eleven years?
This biography (co-authored by his older brother) reminded me of so much that Chris Farley introduced into my life that is still a part of me. It was really sad to lose him. I'm even sadder about it now, knowing the story. Of all the famous people who die, here is probably the one I miss the most; the one I felt most attached to. Maybe that sounds odd. I think it is true.
Reading his story reminds you of all that was lovable about him: His "Chris Farley Show" interviews (as seen below); his "
Da
Bears" routine; his "Motivational Speaker" bit; his "Tommy Boy" comedic masterpiece; his spunk; and his genuine love for life and ability to lift those around him (which you sensed, not knowing him, and which it turns out was the real deal).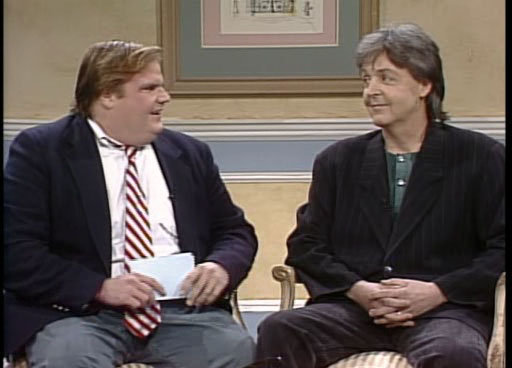 This story also opens your eyes to the normality of famous people and to the dangers of mixing insecurity, family baggage, a fast rise to stardom, and addiction. As a wake up call to the death-toll of addiction alone it is a worthy read. As an insight into our common human struggles it is a reminder to be there for each other. It is a deep and compelling story told in a very simple interview style with people who knew him and, of course, it is laced with a lot of humour. There are not many books I can recommend more highly than this one.
Most of all I just wanted to pay my respects and to bring the memory of this face to mind. I wish he were alive today. I wish I was taking my boys to a Farley movie in a few years. I am convinced he would have gone on to make some pretty incredible movies that would have made us laugh and which also would have moved us.
Besides all that, however, Chris Farley was just a genuine person, a spark of life, and a devout Catholic who went to mass several times a week. He was born the day after Valentines, 1964, and died three days before Christmas, 1997. He was 33. I pray he is resting in Peace.